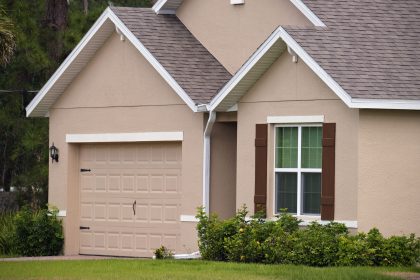 The siding of your house serves as a protective barrier against the elements while enhancing its aesthetic appeal. However, wear and tear can damage your siding with time, impairing its performance. Hiring residential siding contractors is essential when faced with damaged or outdated siding. These professionals specialize in installing siding on houses and performing necessary repairs.
The signs that indicate it's time to hire a residential siding contractor:
Visible Damage and Deterioration:

One of the most apparent signs that it's time to hire residential siding contractors is visible damage or deterioration of your siding. Cracks, warping, rotting, or loose panels can compromise the integrity of your home's exterior, making it susceptible to water damage, pests, and energy loss. If you notice these issues, it's crucial to consult with siding contractors to assess the extent of the damage and determine the appropriate repair or replacement solutions.
High Energy Bills:

If you've experienced a sudden increase in energy bills, your siding may contribute to energy inefficiency. Damaged or deteriorating siding can result in air leaks and poor insulation; energy is lost as your HVAC system works more to maintain a comfortable inside temperature. Hiring residential siding contractors can help identify the energy efficiency of your siding and suggest insulation improvements or replacements to reduce your energy consumption and save on utility costs.
Moisture-Related Problems:

Mold, mildew, or fungus growth on your siding indicates moisture infiltration. Moisture-related issues can harm your home, leading to structural damage and health concerns. Local siding contractors can evaluate the source of moisture, repair or replace damaged sections of the siding, and install moisture barriers to prevent future problems. With the aid of experts, you may act quickly to protect your house and the well-being of its people.
Faded or Peeling Paint:

If you notice your siding's paint fading or peeling, it's time to consider hiring residential siding contractors. Faded or peeling paint affects your home's curb appeal and exposes the underlying material to potential damage. Siding specialists can evaluate the state of your siding, recommend appropriate solutions, such as repainting or replacing the siding, and help restore your home's exterior to its former glory.
Maintenance Demands and Costs:

Frequent repairs and maintenance tasks on your siding can indicate that hiring residential siding contractors is time. Aging or deteriorating siding may require constant attention, leading to increased costs and effort. Instead of continuously patching problems, investing in professional assistance can provide a more cost-effective solution. Siding contractors can install new, durable siding materials that require minimal maintenance, saving you time and money in the long run.
Outdated Appearance:

If your siding looks outdated or no longer complements the architectural style of your home, it's time to consider a siding upgrade. Enhancing your home's curb appeal can significantly impact its value and attractiveness. Residential siding contractors can help you choose modern siding materials and styles that align with your vision, giving your home a fresh and updated look.
Home Renovations and Additions:

It's an ideal time to consult with residential siding contractors if you plan significant renovations or additions. They can ensure that the new siding integrates seamlessly with the existing structure, maintaining a cohesive and aesthetically pleasing appearance. Siding contractors will work closely with you to understand your renovation plans and provide expert advice on selecting the right siding materials and installation techniques.
Increased Home Value:

Your home's value might rise dramatically due to siding upgrades, increasing its appeal to purchasers. If you anticipate selling your home, hiring residential siding contractors to install new siding can provide a high return on investment. Fresh, well-maintained siding enhances curb appeal, creates a positive first impression, and gives buyers confidence in your property's overall condition and quality.
Finding reliable local siding contractors is crucial to ensure a successful siding project. To locate the most capable experts for the job, follow the steps below:
Research and Gather Recommendations:

Research local siding contractors in your area. Look for residential siding specialists with a track record of producing high-quality work. Ask friends, family, or neighbors for recommendations based on their experiences with siding projects. A contractor's reputation and dependability can be learned greatly from online evaluations and ratings.
Check Licenses and Insurance:

Verify that the siding contractors you consider hiring hold the necessary licenses and insurance coverage. Proper licensing ensures they have met the required standards and regulations for installing siding installations and repairs. Insurance coverage protects you and the contractors in case of accidents or property damage during the project.
Review Portfolios and References:

Ask potential siding contractors for portfolios of their previous work. Reviewing their portfolio allows you to assess the quality and diversity of their projects. Additionally, ask for references from past clients and contact them to inquire about their experiences with the contractors. This response will provide valuable insights into the contractors' professionalism, craftsmanship, and customer service.
Request Detailed Quotes and Contracts:

Contact the shortlisted siding contractors and request detailed quotes for your project. The quotes should include a breakdown of costs, materials to be used, project timelines, and any warranties offered. Carefully review and compare the quotes to ensure you understand what is included in each contractor's proposal. Ensure you have a legally binding agreement stating the scope of work, payment terms, and other pertinent information once you've chosen a contractor.
Collaboration and Communication:

A siding project's success depends on effective communication. Ensure the chosen contractors are cooperative, receptive to your queries and concerns, and responsive. A good contractor will pay attention to your needs, provide expert guidance, and keep you updated on the situation as it develops and any potential problems.
Conclusion
Hiring residential siding contractors is crucial for homeowners who want to enhance their houses' usability and aesthetic appeal. By paying attention to the signs of damaged or outdated siding and enlisting the help of professional contractors, you can protect your home, increase energy efficiency, enhance curb appeal, and boost its value. Spend time researching and locating dependable local siding contractors who can deliver quality work and bring your siding project to fruition.
When searching for the best local siding contractors in New York, One reputable option is Best Enterprises General Contracting. We have a wealth of industry knowledge and expertise and a reputation for delivering excellent siding services to homeowners. Best Enterprises General Contracting understands the importance of high standards of craftsmanship, meticulousness, and client satisfaction.
By choosing Best Enterprises General Contracting, you can be confident that your siding project will be handled by skilled professionals who prioritize delivering exceptional results. Their team of local siding contractors has the knowledge and expertise to address any siding issues your house may have, providing reliable repairs or installations that meet your specific needs.
Moreover, Best Enterprises General Contracting values open communication and collaboration with their clients, ensuring that your vision and preferences are incorporated into the project. They stand out as a reliable option for your siding needs thanks to their devotion to employing high-quality products and their dedication to providing excellent customer service. Best Enterprises General Contracting stands out for its professionalism, reliability, and commitment to delivering excellent results when finding the best local siding contractors in New York. Contact them today to discuss your siding project and experience the difference their expertise can make in transforming your home.