As we stand at the cusp 2024, home improvement is undergoing a paradigm shift. Homeowners are not merely seeking aesthetic upgrades but embracing sustainability, energy efficiency, and minimalist design principles. In this blog, we'll delve into the leading home improvement trends for the upcoming year, examining how Best Enterprises General Contracting seamlessly integrates these strategies to cater to the evolving desires of homeowners.
1. Sustainable Home Improvements:
Sustainability is no longer an abstract concept but a guiding principle for diligent homeowners. In 2024, the emphasis on eco-friendly options will be more pronounced than ever. Best Enterprises General Contracting is at the forefront of this movement, recognizing the importance of sustainable practices in contemporary home improvement.
Best Enterprises GC actively seeks out materials with minimal environmental impact. From recycled to renewable resources, the focus is on sourcing products that align with eco-conscious goals. Beyond materials, Best Enterprises General Contracting employs construction practices that minimize waste and reduce the overall carbon footprint of our projects. By weaving sustainability into the fabric of our work, we help homeowners create spaces that look good and feel good in an environmentally responsible way.
2. Energy-Efficient Remodeling:
Energy-efficient remodeling takes center stage in a world increasingly aware of its carbon footprint. Homeowners are looking to contribute to environmental conservation and seeking the long-term benefits of reduced energy consumption. Best Enterprises General Contracting is ahead of the curve in adopting this trend.
We ensure our projects are aesthetically pleasing and environmentally responsible by incorporating cutting-edge technologies, such as smart home systems and energy-efficient windows. The installation of insulation materials further enhances energy efficiency, providing homeowners with spaces that are not only comfortable but also sustainable. As utility bills decrease, the value of these energy-efficient investments becomes increasingly apparent, making them a cornerstone of Best Enterprises General Contracting's approach to remodeling.
3. Minimalist Home Design:

Minimalism has evolved from a design trend to a way of life. Characterized by clean lines, open spaces, and a focus on functionality, minimalist design is gaining traction among homeowners in 2024. Best Enterprises General Contracting recognizes the appeal of minimalist aesthetics and its intrinsic link to mindful living.
Collaborating closely with clients, we integrate minimalist principles into the projects. This goes beyond the visual aspects and extends to optimizing storage solutions, decluttering spaces, and carefully selecting furniture and finishes that resonate with the essence of minimalism. The result is homes that look chic and embody a sense of purposeful simplicity, reflecting the mindset of a homeowner seeking to declutter their physical and mental space.
4. General Contractor Services:
A general contractor's role is paramount in the home improvement world. 2024 sees an increased demand for professional general contractor services as homeowners seek guidance in navigating complex renovation processes. Best Enterprises General Contracting excels in providing comprehensive services encompassing every home improvement journey facet.
From the initial stages of project planning and design to the execution and management of construction, the company ensures a seamless experience for clients. The expertise of Best Enterprises General Contracting not only guarantees the successful completion of projects but also alleviates the stress often associated with complex renovations. The company is a trusted partner in realizing homeowners' visions by offering end-to-end solutions.
5. Technology Integration:
A key trend in home improvement is the widespread adoption of smart technologies. Homeowners are increasingly incorporating automated systems for lighting, climate control, security, and entertainment, enhancing functionality and convenience. This shift towards connected living reflects a growing expectation for homes to seamlessly integrate with modern technology, offering residents an intelligent and responsive lifestyle. As technology evolves, integrating smart features becomes a compelling suggestion for homeowners aiming to stay ahead in the ever-changing landscape of modern living.
Conclusion:
As we step into the future, the trajectory of home improvement is marked by a fusion of aesthetics, sustainability, and technological innovation. Best Enterprises General Contracting, through its commitment to these trends, emerges not just as a construction company but as a facilitator of dreams and a steward of responsible and forward-thinking home improvement practices. In the tapestry of 2024, let your home be a testament to the harmonious integration of modern living and sustainable design guided by these transformative trends.

The bathroom, often overlooked in interior design, is an essential space in our homes. A well-designed bathroom enhances functionality and provides a haven for relaxation. An important aspect of transforming your bathroom into a stylish retreat is the careful selection of color schemes. In this blog, we'll explore innovative bathroom color scheme ideas, delve into the latest trends in bathroom design, and discover how we bring these concepts to life for our clients during bathroom remodeling in East Northport, NY.
Bathroom Color Schemes:
Tranquil Tones:

Create a serene ambiance in your bathroom by opting for tranquil tones. Soft blues, muted greens, and gentle grays evoke a sense of calmness, transforming your bathroom into a peaceful oasis. These colors work well with various design styles, from traditional to modern.

Neutral Elegance:

Timeless and sophisticated, neutral color schemes are a classic bathroom choice. Shades of beige, ivory, and taupe provide a versatile backdrop for any bathroom decor. Neutrals also allow easy integration of bold accents and accessories, adding interest without overwhelming the space.

Bold and Beautiful:

For those who crave a bit of drama, consider bold and vibrant color schemes. Deep blues, rich emerald greens, or even daring shades of black can create a striking and luxurious atmosphere. Use these colors strategically on accent walls, cabinetry, or accessories to make a statement.

Nature-Inspired Hues:

Bring the outdoors in by incorporating nature-inspired color schemes. Earthy tones like moss green, sandy beige, and warm browns create a harmonious and grounding environment. Natural materials like stone and wood complement these hues, enhancing the overall connection to nature.
Bathroom Interior Design and Decor Ideas:
Statement Tiles:

Elevate your bathroom design by incorporating statement tiles. Whether it's a mosaic feature wall, geometric patterns, or bold colors, unique tiles add personality and visual interest to the space. Best Enterprises General Contracting specializes in sourcing and installing high-quality tiles that align with the chosen color scheme.

Luxurious Lighting:

Lighting plays a crucial role in bathroom design. Consider installing stylish pendant lights, sconces, or a chandelier to add a touch of luxury. We ensure optimal lighting placement during bathroom renovations, creating a well-lit and inviting space.

Smart Storage Solutions:

A clutter-free bathroom enhances the overall aesthetic. Opt for sleek and functional storage solutions like floating shelves, built-in cabinets, or mirrored cabinets. Our customized storage solutions maximize space and maintain a cohesive design.
Bathroom Renovation and Home Improvement:
Space Optimization:

Best Enterprises General Contracting optimizes bathroom space during renovations. Whether it's a small powder room or a spacious bathroom, strategic layout changes and innovative storage solutions are implemented to maximize the available space.

Energy-Efficient Fixtures:

In line with modern trends, energy-efficient fixtures are integrated into bathroom renovations. We install water-saving faucets, LED lighting, and energy-efficient ventilation systems, providing clients with eco-friendly and cost-effective solutions.
Bathroom Design Trends and Modern Bathroom:
Freestanding Bathtubs:

A focal point in modern bathroom design, freestanding bathtubs add a touch of luxury and sophistication. We help clients choose the perfect bathtub that complements the overall design and enhances the modern aesthetic.

Frameless Shower Enclosures:

Frameless shower enclosures create a contemporary and open feel, embracing the sleek and minimalist design trend.

We also specialize in installing custom glass enclosures, adding a touch of elegance to the modern bathroom.
Bathroom Remodeling with Best Enterprises General Contracting:
Best Enterprises General Contracting, a leading name in East Northport, NY, bathroom remodeling combines expertise with creativity to bring the client's visions to life. Incorporating the latest color schemes, design trends, and modern concepts ensures each bathroom renovation is a unique and personalized experience.
Our team pays meticulous attention to detail during remodeling, from selecting the perfect color palette to integrating cutting-edge design elements. Our commitment to quality craftsmanship and client satisfaction sets us apart in the competitive world of home improvement.

Conclusion:
Transforming your bathroom into a stylish and functional space involves careful consideration of color schemes, interior design, and the latest trends. With its dedication to excellence, Best Enterprises General Contracting seamlessly incorporates these strategies into its bathroom remodeling projects in East Northport, NY. Choosing the right color scheme and design elements allows you to elevate your bathroom into a modern and luxurious retreat, enhancing its aesthetic appeal and functionality.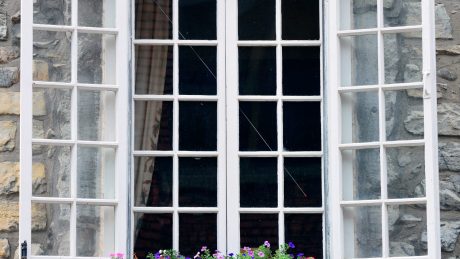 Choosing between local and national window installation services is critical when upgrading your home with new window installations or replacing old ones. Both options have advantages and drawbacks, making it essential for homeowners to weigh their priorities. In this comprehensive exploration, we will delve into the pros and cons of local and national window installation services, shedding light on why opting for a local contractor, such as Best Enterprises General Contracting in East Northport, could be the key to a successful and personalized window installation experience.
Local Window Contractors: The Community Connection Advantage
Pros of Local Window Contractors:
Community Roots:

Local window installation contractors are deeply ingrained in the communities they serve. Best Enterprises General Contracting, located in East Northport, is a prime example. This community connection often translates to a higher level of accountability and a genuine commitment to the satisfaction of local homeowners.

Personalized Service:

Local contractors thrive on providing personalized service. They take the time to understand the unique needs of homeowners, offering tailored solutions for their window installation projects. This personalized touch is invaluable, especially when aiming for seamless integration of new windows into the existing aesthetics of your home.

Faster Response Time:

Urgent situations demand swift responses. Local contractors, being nearby, can offer faster response times. Whether it's a sudden window damage or an unexpected issue during installation, a local contractor is more likely to address it promptly.

Knowledge of Local Regulations:

Local contractors know their area's specific building codes and regulations. This local knowledge ensures that your window installation complies with all necessary standards, preventing potential legal or structural issues down the line.
Cons of Local Window Contractors:
Limited Resources:

Local contractors might need more support when it comes to resources compared to their national counterparts. This can affect the variety of products and services they can offer.

Smaller Scale Operations:

For homeowners undertaking extensive projects, the smaller scale of local operations might need to be improved. With their vast resources, national companies could be better equipped for larger-scale endeavors.

National Window Installation Services: The Scale Advantage
Pros of National Window Installation Services:
Wide Range of Products and Services:

National companies often boast extensive window products and services. This variety can benefit homeowners seeking specific features or customization options for their new window installations.

Established Reputation:

The reputation of national companies is often well-established. With a history of completing projects across different regions, homeowners may find a sense of confidence in the reliability and quality of their work.

Advanced Technology and Techniques:

Larger companies generally have access to the latest technology and installation techniques. This can be appealing to homeowners looking for cutting-edge solutions in window installation.
Cons of National Window Installation Services:
Less Personalized Service:

The sheer size of national companies can sometimes result in a less personalized experience for homeowners. Your project might feel like just another job in their system, needing more individualized attention than local contractors are known for.

Potentially Longer Response Time:

National companies might have longer response times due to their size and the many projects they handle. This delay can be significant, particularly for smaller or urgent window installation jobs.
Best Enterprises General Contracting: Elevating Local Excellence
In East Northport, Best Enterprises General Contracting is a shining example of local excellence in window installation services. Our commitment to the community, personalized approach, and swift response times make us a top choice for homeowners seeking professional window installations .
In conclusion, whether you choose a local or national window installation service depends on your specific needs, the scale of your project, and your priorities as a homeowner. Best Enterprises General Contracting exemplifies how a local window installation contractor can combine the best of both worlds, providing the resources and expertise needed for quality window installations while maintaining the personalized service that sets us apart in the East Northport community. When investing in new window installations or replacements, consider the unique benefits a local contractor can bring to your home improvement journey.